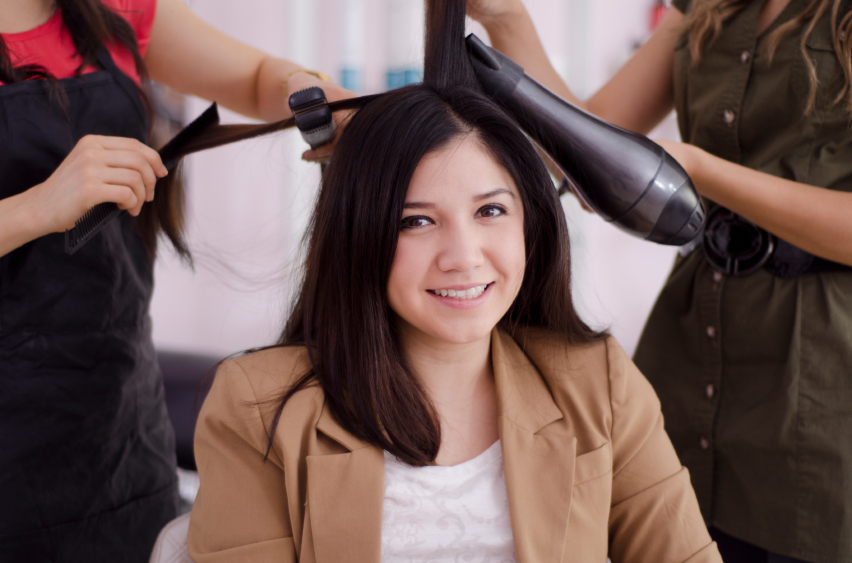 Using a flatiron seems fairly straightforward –and if you're like most people, you'll just turn it on, wait for it to heat up and begin. However, if you plan to enroll in a hairstyling college, you'll learn soon enough that there are actually many more steps to correctly using this handy device. Read on to find out how salon experts are using their flatirons, and how you can avoid making some of these common blunders:
#1: Neglecting Heat Protection
If you've ever visited a professional hair salon, you may have noticed the stylist spraying something into your wet hair before using a flatiron to straighten and style. This is actually an extremely vital part of maintaining hair health. Every stylist knows that the heat from a hairdryer and flatiron can take a major toll on hair, which is why they will always use a thermal protectant spray or serum BEFORE applying any heat at all. This is a step that should never be forgotten, because it works to guard against breakage and split ends.
#2: Flat-ironing Wet Hair
Graduates of hairdressing school understand the importance of fully drying a client's hair before taking a flatiron to it. Using a flatiron on wet or damp hair will create a lot of steam, as well as an alarming sizzling sound. It should come as no surprise to anyone that this will not bode well for clients' hair – or their confidence in you as a stylist! Experts will always thoroughly blow-dry the hair beforehand to avoid making the strands more vulnerable to cracks and irreparable damage.
#3: Too Hot or Too Cold
The average flatiron can be heated up to 450 degrees – however, this does not mean that it should be! Those pursuing hairstyling training can confirm that there is no single heat setting on a straightener that suits every hair type. Professional hairdressers will normally assess a client's hair type and texture before selecting a heat level. While thicker hair calls for higher heat levels – approximately 350 to 410 degrees – thinner hair (or chemically bleached hair) will straighten between the temperatures of 220 and 340 degrees.
#4: Forgetting to Section the Hair
An easy way to avoid passing the flatiron multiple times over the same pieces of hair is to section it before beginning. Trained stylists will always use clamps to separate the hair before and during the straightening process. This helps them avoid passing the flatiron on pieces that are too thick, and it allows the heat to travel evenly through each strand. Depending on how much hair a client has, a hairdresser will typically separate it into four sections.
#5: The Plates Aren't Clean
Stylists working in professional salons use their flatirons on many clients each day. This means that after a while, products and natural oils will accumulate on top of the iron's metal plates. To prevent the leftover residue from causing any damage to hair, experts regularly clean their straighteners by gently scrubbing the plates with warm water (or rubbing alcohol) once the tool has cooled off completely.
Which common flatiron blunders are you guilty of making?